"A hugely ambitious novel whose consummate, patient artistry is moving beyond measure."
-- Matthew Thomas, New York Times best-selling author of We Are Not Ourselves
"This is a story -- in all its rich layers -- that dazzles, breaks your heart, clutches you, and gets you back up again."
--Paul Yoon, author of Run Me to Earth
.
July 21, 2020 (Bloomsbury USA)
June 11, 2020 (Bloomsbury UK)
"A heartrending and blazingly lucid depiction of Nazi Germany."
-- Miriam Toews, author of Women Talking
For a list of select sources about the Hitler Youth and the strategic Allied bombings of Germany during World War II, go here.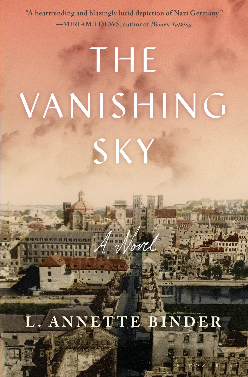 "A fresh take on the madness of war"
"The narration ... deliver[s] the details of privation and fear as well surprising moments of kinship and generosity with an unforgettable grace... The future is unimaginable, Binder writes -- and yet, somehow, those who are left will find a way to carry on. A masterful story of war, horror, and love."
"The stark accounting of the personal damage inflicted by war draws its power through its homey details, as one family's life is blown apart."
-- Booklist
"The Vanishing Sky reveals the German home front as I've never seen it in fiction... Binder tells her story patiently, like an artist placing tiny pieces into a mosaic; this literary novel isn't one to race through. But I find it gripping, powerful, and a brave narrative, unsparing in its honesty."
-- Larry Zuckerman, Historical Novels Review
Binder "uses Etta Huber, a hausfrau in a rural village, as a means of feeling her way back into the past, channeling the anguish and uncertainty of the final months of the fighting."
-- Alida Becker, New York Times Book Review, Summer Reading -- Historical Fiction